Attention: Habitat for Humanity of Cape Cod Invites USA Veterans and Active-Duty Service Members to Apply for the Veterans Preference Home in Brewster
Application Deadline: August 14, 2023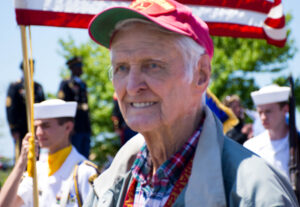 Several years ago, a group of Habitat for Humanity of Cape Cod volunteers decided to raise enough money to sponsor the building of a Habitat home in memory of Bob Harding. In addition, they wanted the house to be designated for a U.S. veteran and their family.
At 19 years of age, Bob Harding served with the 3rd Marine Division during World War II in Bougainville, Guam, and Iwo Jima, three places where the life expectancy of a young recruit was not long. At Habitat, we all knew Bob quietly took pride in his time in the service.
Bob worked with Habitat for Humanity of Cape Cod volunteers for 15 years. In May 2019, he was diagnosed with pancreatic cancer and given a prognosis of four months to live. Within a couple of months, he could no longer come to the work site; volunteers and friends would bring him over for a visit.
He passed away in October 2019 after celebrating his 96th birthday on a Habitat for Humanity of Cape Cod site with his friends and fellow volunteers. Bob was a gentleman with a twinkle in his eye, a wry smile, and to the very end, a proud U.S. Marine.
Veterans, Active-Duty Service Members, and their families are invited to apply for this opportunity to own an affordable, energy-efficient, and well-built home. The application deadline is August 14, 2023. Please visit https://habitatcapecod.org/to-apply-for-a-home/ for more details.
Thank you for your service!