About Habitat Cape Cod Homes - Green Building
Habitat for Humanity of Cape Cod's priority is to build sustainable, energy-efficient, and healthy homes. Green building benefits us all now—and will impact generations to come. Children growing up in a house with good indoor air quality have fewer health issues, and the benefit of owning a home with low energy costs is obvious.
Sustainability: Selecting materials that are harvested, procured, or otherwise sourced in ways that reduce harm to our planet's natural resources.
Energy-efficiency: Reduce the energy required to heat, cool, and run the household—minimizing carbon emissions into our atmosphere.
Health: Energy-efficient homes are climate-controlled with enhanced ventilation, reducing airborne contaminants and circulating excellent air quality.
Green Building Strategies = Top Energy-Efficient Homes
We are proud of our green building strategies and continually track how they impact our affordable and sustainable homes for energy efficiency, air quality, and sustainability.
Some of the techniques and tactics we use are:
Advanced framing techniques
Innovative technologies
Solar Photovoltaics (PV)
At the 2022 ResNET Building Performance Conference, Habitat for Humanity International recognized Habitat for Habitat of Cape Cod as the nationwide top affiliate for creating and producing energy-efficient housing.
Home Energy Rating System (HERS) Index – The Better the HERS Index Rating, the Lower the Cost of Operating a Home
In addition, Habitat Cape Cod has the lowest Home Energy Rating System (HERS) Index of all the affiliates located in the United States. The HERS Index is based on RESNET's ANSI standards that measure a home's energy efficiency and is the nationally recognized system for inspecting and calculating a home's energy performance.
The HERS Index is used throughout the initial permitting, construction, and completion. Habitat for Humanity of Cape Cod monitors each home our organization has built to understand how various sustainable and green building practices are performing and how we can improve to maximize our energy efficiency for future builds. Our organization is graded for each home's performance and has received rebates through the state of Massachusetts' "Energy Star" program.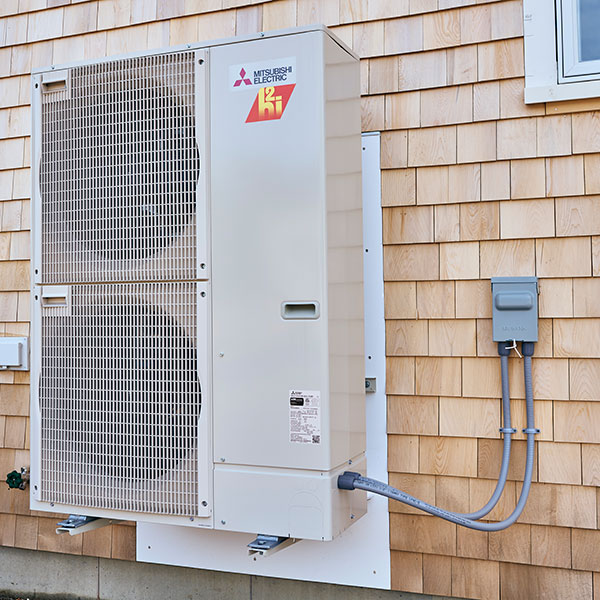 Community Partnership Drives Green Building - KAM Appliances
KAM Appliances has partnered with Habitat for Humanity of Cape Cod to provide new Energy Star-rated appliances for all upcoming builds, starting with those completed in 2023. Each home will receive a brand-new dishwasher, range, refrigerator, washer, and dryer; these appliances will use less energy and help increase the Habitat Cape Cod homeowner's HERS Index rating. In addition, KAM Appliances will donate any unsellable but working appliances (dents/dings) to our ReStores in Yarmouth and Falmouth for sale to the public. Habitat for Humanity of Cape Cod's ReStores is critical to our organization, with store sales helping fund our affordable home-building program to build more homes on Cape Cod.